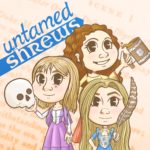 Tune in every third Sunday of the month on Youtube, sunsounds.org, Spotify, Google Podcasts, or Stitcher!

The shrews chat with one of their fave gal pals Cadence Lamb (who wrote the Untamed Shrews theme song) about writing music, preparing for a role (such as Hamlet, omg!), and gender bending. This is a fun one, and does include some explicit language.
Starring…
Dawn Tucker
Becki Zaritsky
Hannah Fontes
Cadence Lamb

Edited by Hannah Fontes
Show art by Calliope Luedeker
Theme song by Cadence Lamb

Podcast recorded at Sun Sounds of Arizona in Flagstaff, AZ.
Special thanks to Gina Byars!