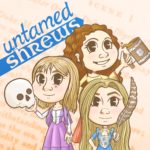 The shrews chat with local funny guy Garrison Garcia about creating and maintaining safe and inclusive creative spaces and how we can be really great allies!
Tune in every third Sunday of the month on Youtube, sunsounds.org, Spotify, Google Podcasts, or Stitcher!
Starring…
Dawn Tucker
Becki Zaritsky
Hannah Fontes
Garrison Garcia

Edited by Hannah Fontes
Show art by Calliope Luedeker
Theme song by Cadence Lamb

Podcast recorded at Sun Sounds of Arizona in Flagstaff, AZ.
Special thanks to Gina Byars!