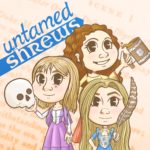 The Shrews are joined by Jennifer Vosters, a FlagShakes acting and directing alum who has written a one woman play, Songs Without Words. We also pick her brian about what it is like to live and work in Chicago, and about how the heck she got an agent…
Tune in every third Sunday of the month on YouTube, SunSounds.org, or wherever you get your podcasts!
https://linktr.ee/untamedshrewspodcast
Starring…
Hannah Fontes
Dawn Tucker
Becki Zaritsky
Jennifer Vosters


Produced and edited by Hannah Fontes
Show art by Calliope Luedeker
Theme song by Cadence Lamb
Podcast recorded with Sun Sounds of Arizona in Flagstaff, AZ. Special thanks to our audio engineer Gina Byers!