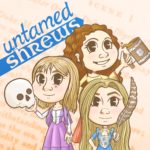 The gals have a conversation with local actor and friend Justus Burkitt, who just played our Iago, and will be one of our Dromios in our upcoming production of The Comedy of Errors! We discuss growing up in a theater family, performing in Shakespeare, and deep dive into the idea of Renaissance Runs and cue scripts.
Comedy runs Oct 7-16, 2022 at the Coconino Center for the Arts. FlagShakes.org for tickets!
Tune in every third Sunday of the month on YouTube, SunSounds.org, Spotify, Google Podcasts, Apple Podcasts, or Stitcher! https://linktr.ee/untamedshrewspodcast
Starring…
Hannah Fontes
Dawn Tucker
Becki Zaritsky
Justus Burkitt

Produced and edited by Hannah Fontes
Show art by Calliope Luedeker
Theme song by Cadence Lamb
Podcast recorded with Sun Sounds of Arizona in Flagstaff, AZ. Special thanks to our audio engineer Gina Byars!