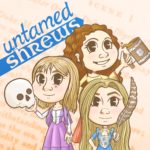 Happy almost fall! It's September, Shrews! This month, the girls chat BUSINESS. They discuss the Artist-Administrator model and what that looks like from the outside and the inside!
https://linktr.ee/untamedshrewspodcast
Starring…
Hannah Fontes
Dawn Tucker
Becki Zaritsky


Produced and edited by Hannah Fontes
Show art by Calliope Luedeker
Theme song by Cadence Lamb
Podcast recorded with Sun Sounds of Arizona in Flagstaff, AZ. Special thanks to our audio engineer Gina Byers!