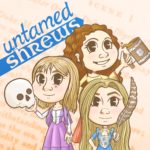 This month the shrews celebrate the holiday season with Alejandra Luna, the director of Flagstaff Shakespeare's upcoming production of "A Christmas Carol" by Charles Dickens. They discuss the play, laugh through a silly game, chat about holiday feasts, and swap traditions!

Tune in every third Sunday of the month on Youtube, sunsounds.org, Spotify, Google Podcasts, or Stitcher!
Starring…
Dawn Tucker
Becki Zaritsky
Hannah Fontes
Alejandra Luna

Edited by Hannah Fontes
Show art by Calliope Luedeker
Theme song by Cadence Lamb

Podcast recorded at Sun Sounds of Arizona in Flagstaff, AZ.
Special thanks to Gina Byars!