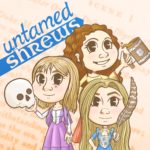 Auditions suckkkkkk. How can we make them better? The Shrews chat about good and bad auditions, and how we can improve in this crucial area! There is much to discuss about auditions, so stay tuned for Part 2!
Tune in every third Sunday of the month on YouTube, SunSounds.org, or wherever you get your podcasts!
https://linktr.ee/untamedshrewspodcast
Starring…
Hannah Fontes
Dawn Tucker
Becki Zaritsky

Produced and edited by Hannah Fontes
Show art by Calliope Luedeker
Theme song by Cadence Lamb
Podcast recorded with Sun Sounds of Arizona in Flagstaff, AZ. Special thanks to our audio engineer Gina Byers.