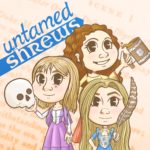 The shrews are joined by incredible actress and mamma Betsy Mugavero to discuss being a mamma in the arts! We try to answer the simple question: HOW????
Tune in every third Sunday of the month on Youtube, sunsounds.org, Spotify, Google Podcasts, or Stitcher!
Starring…
Dawn Tucker
Becki Zaritsky
Hannah Fontes
Betsy Mugavero

Edited by Hannah Fontes
Show art by Calliope Luedeker
Theme song by Cadence Lamb

Podcast recorded at Sun Sounds of Arizona in Flagstaff, AZ.
Special thanks to Gina Byars!