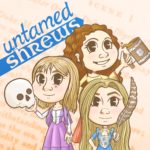 The shrews are joined today by our new Equality and Casting Assistant, Racquel McKenzie, an actor, director, producer, poet, and model here to chat with us about what it is like being a multi-hyphenate artist and wearing many hats in the artistic community!
Tune in every third Sunday of the month on Youtube, sunsounds.org, Spotify, Google Podcasts, or Stitcher!
Starring…
Dawn Tucker
Becki Zaritsky
Hannah Fontes
Racquel McKenzie

Edited by Hannah Fontes
Show art by Calliope Luedeker
Theme song by Cadence Lamb

Podcast recorded at Sun Sounds of Arizona in Flagstaff, AZ.
Special thanks to Gina Byars!