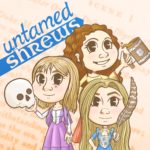 We started a podcast! That's right, your three fave FlagShakes gals started a podcast, "Untamed Shrews: Women Talk Theatre" and here is our FIRST EPISODE. Join us in introducing ourselves, the podcast, and Flagstaff Shakespeare Festival!
The podcast will cover topics ranging from the academic to the absurd, all touching base on theatre, the performing arts, and what it means to be a woman in our field.
Tune in every third Sunday of the month starting January 31. Listen wherever you get your podcasts, on the FlagShakes Youtube, and sunsounds.org.
Starring…
Dawn Tucker
Becki Zaritsky
Hannah Fontes
Edited by Hannah Fontes
Show art by Calliope Luedeker
Theme song by Cadence Lamb
Podcast recorded at Sun Sounds of Arizona in Flagstaff, AZ.
Special thanks to Eric Santoro and Gina Byars!